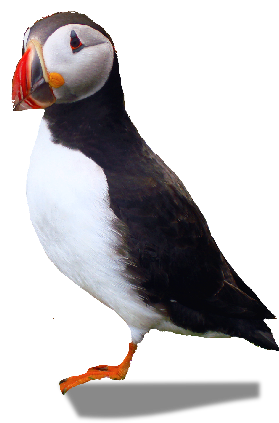 Handa Ferry, Tarbet near Scourie
Or for an immediate answer,
just call us directly…
Roger Tebay: 07780 967800
Call Roger : 07780 967800
Questions?


We have
no online booking
but feel free to get in touch if you need to ask any questions
or
please call us on
0
7780 967800
or mail us here ….
Handa Ferry for Handa Island, Sutherland
Sailings to island Monday to Saturday, 9:00am to
2:00pm
(FINAL OUTWARD TRIP)


Handa Island has over 200,000 seabirds on its towering cliffs, including internationally important numbers of guillemot, razorbill and great skua. Plus more than 250 pairs of puffin breed here. Also Otters, dolphins, minke whales, pilot whales, porpoises, basking sharks and the amazing orca (killer whales) also occasionally go by.
Map of Island
Fares And Directions
Adult £15, Child £5, Child under 5 Free


Handa island is a short ferry ride from Tarbet turnoff 3 miles North of Scourie on the A 894, the magnificent Ullapool to Durness west coast road (then from the junction 3 miles to the jetty).
North Coast 500
The Highlands own route 66 - the North Coast 500 marketing often uses a stunning photo of several sports cars crossing the impressive Kylesku Bridge just a few miles south of us. Handa is right in the middle of some of the most stunning coastline on this memorable route. An ideal stopping off point for your trip!
North coast 500 Website
Handa Island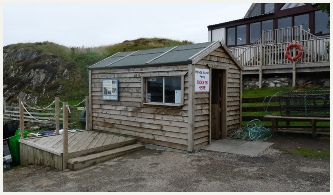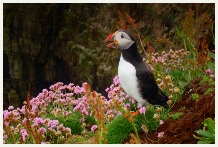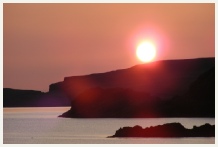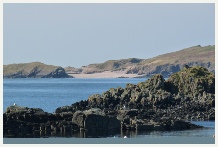 Handa Island Jetty
Tarbet for Ferry by Seafood Restaurant
Outward sailings Monday to Saturday, 9:00am to 2:00pm - Last return from Island 5pm
Wildlife
A wide range of wildlife inhabits area.
Red deer, Otters, Seals, Dolphins and even Whales cruise by but the Puffins & plethora of other birds are the most numerous.
FAQ - F
requently Asked Questions
Can I pre-book?


No - sorry - we cannot maintain a fixed bookings schedule.
What is the BEST TIME to see the Puffins?


YES - summer is best - May, June and July


Can I pay by Credit/Debit Card?


No - sorry - we are not set up to take cards.
Can I take small Children?


YES - but weather connditions must be taken into account.
Can I take my dog?


No - due to passenger comfort, safety and space on the small ferry this is not possible.
What are the Ferry Timings?
Monday to Saturday 9am to 2pm (latest outgoing) but this also dependant on the weather conditions. More frequent ferry trips can go at busy times in good weather.
Home